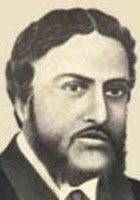 মহাকবি মাইকেল মধুসূদন দত্ত (২৫ জানুয়ারি, ১৮২৪ – ২৯ জুন, ১৮৭৩) ঊনবিংশ শতাব্দীর বিশিষ্ট বাঙালি কবি ও নাট্যকার। তাঁকে বাংলারনবজাগরণ সাহিত্যের অন্যতম পুরোধা ব্যক্তিত্ব গণ্য করা হয়।
ব্রিটিশ ভারতের যশোর জেলার এক সম্ভ্রান্ত কায়স্থ বংশে জন্ম হলেও মধুসূদন যৌবনে খ্রিষ্টধর্ম গ্রহণ করে মাইকেল মধুসূদন নাম গ্রহণ করেন এবং পাশ্চাত্য সাহিত্যের দুর্নিবার আকর্ষণবশত ইংরেজি ভাষায় সাহিত্য রচনায় মনোনিবেশ করেন। জীবনের দ্বিতীয় পর্বে মধুসূদন আকৃষ্ট হন নিজের মাতৃভাষার প্রতি। এই সময়েই তিনি বাংলায় নাটক, প্রহসন ও কাব্যরচনা করতে শুরু করেন।
মাইকেল মধুসূদন বাংলা ভাষায় সনেট ও অমিত্রাক্ষর ছন্দের প্রবর্তক। তাঁর সর্বশ্রেষ্ঠ কীর্তি অমিত্রাক্ষর ছন্দে রামায়ণের উপাখ্যান অবলম্বনে রচিত মেঘনাদবধ কাব্য নামক মহাকাব্য। তাঁর অন্যান্য উল্লেখযোগ্য গ্রন্থাবলি হলো দ্য ক্যাপটিভ লেডি, শর্মিষ্ঠা, কৃষ্ণকুমারী (নাটক), পদ্মাবতী (নাটক), বুড়ো শালিকের ঘাড়ে রোঁ, একেই কি বলে সভ্যতা, তিলোত্তমাসম্ভব কাব্য, বীরাঙ্গনা কাব্য, ব্রজাঙ্গনা কাব্য, চতুর্দশপদী কবিতাবলী, হেকটর বধ [২] ইত্যাদি। মাইকেলের ব্যক্তিগত জীবন ছিল নাটকীয় এবং বেদনাঘন। মাত্র ৪৯ বছর বয়সে কলকাতায় মৃত্যু হয় এই মহাকবির।
Michael Madhusudan Dutt or Michael Madhusudan Dutta was a popular 19th century Bengali poet and dramatist. He was born in Sagordari, on the bank of Kopotaksho River, a village in Keshobpur Upozila, Jessore District, East Bengal (now in Bangladesh). His father was Rajnarayan Dutt, an eminent lawyer, and his mother was Jahnabi Devi. He was a pioneer of Bengali drama. His famous work Meghnad Bodh Kavya, is a tragic epic. It consists of nine cantos and is quite exceptional in Bengali literature both in terms of style and content. He also wrote poems about the sorrows and afflictions of love as spoken by women.
From an early age, Madhusudan desired to be an Englishman in form and manner. Born to a Hindu landed gentry family, he converted to Christianity to the ire of his family and adopted the first name, Michael. However, he was to regret his desire for England and the Occident in later life when he talked ardently of his homeland as is seen in his poems and sonnets from this period.
Madhusudan is widely considered to be one of the greatest poets in Bengali literature and the father of the Bengali sonnet. He pioneered what came to be called amitrakshar chhanda (blank verse).
In His Own Words
"Where man in all his truest glory lives,
And nature's face is exquisitely sweet;
For those fair climes I heave impatient sigh,
There let me live and there let me die."
Madhusudan embraced Christianity at the church of Fort William in spite of the objections of his parents and relatives on February 9, 1843. Later, he escaped to Madras to escape persecution. He describes the day as:
"Long sunk in superstition's night,
By Sin and Satan driven,
I saw not, cared not for the light
That leads the blind to Heaven.
But now, at length thy grace, O Lord!
Birds all around me shine;
I drink thy sweet, thy precious word,
I kneel before thy shrine!"
On the eve of his departure to England:
"Forget me not, O Mother,
Should I fail to return
To thy hallowed bosom.
Make not the lotus of thy memory
Void of its nectar Madhu."
(Translated from the original Bengali by the poet.)
Barrister-at-Law
Dutt went to England in 1862 to become a Barrister-at-Law, and enrolled at the Gray's Inn.[5]
On the eve of his departure to England:
Forget me not, O Mother,
Should I fail to return
To thy hallowed bosom.
Make not the lotus of thy memory
Void of its nectar Madhu.[16]
(Translated from the original Bengali by the poet.)
His family joined him in 1863, and thereafter they shifted to the much cheaper Versailles, due to the miserable state of their finances. Funds were not arriving from India according to his plans. He was only able to relocate to England in 1865 and study for the bar due to the munificent generosity of Ishwar Chandra Vidyasagar. For this, Dutt was to regard Vidyasagar as Dayar Sagar (meaning the ocean of kindness) for as long as he lived. He was admitted to the High Court in Calcutta on his return in February 1867.[5][9] His family followed him in 1869.[4]
His stay in England had left him disillusioned with European culture. He wrote to his friend Bysack from France:
If there be any one among us anxious to leave a name behind him, and not pass away into oblivion like a brute, let him devote himself to his mother-tongue. That is his legitimate sphere his proper element.[17]
Marriage and family
Dutt had refused to enter into an arranged marriage which his father had decided for him. He had no respect for that tradition and wanted to break free from the confines of caste-based endogamous marriage. His knowledge of the European tradition convinced him of the superiority of marriages made by mutual consent (or love marriages).
He was the first Indian to marry a European or Anglo-Indian woman.[4][5] While in Madras he married Indo-Scottish-Britton,[4][5] Rebecca Thompson McTavish,[5] a 17-year-old resident[4] of the Madras Female Orphan Asylum, on 31 July 1848.[5] Dutt assumed the name Michael when the marriage was registered in the baptismal register. They had four children together. He wrote to Bysack in December 1855:
Yes, dearest Gour, I have a fine English Wife and four children.[18]
Dutt returned from Madras to Calcutta in February 1856, after his father's death (in 1855), abandoning his wife and four children in Madras. No records of his divorce from Rebecca or remarriage have been found.[5] In 1858, he was joined there by a 22 year old of French extraction,[4] Emelia Henrietta Sophie White, the daughter of his colleague at the Madras Male Orphan Asylum.[9] They had two sons, Frederick Michael Milton (23 July 1861 – 11 June 1875)[4][12][19] and Albert Napoleon (1869 – 22 August 1909),[4][19] and a daughter, Henrietta Elizabeth Sermista[4] (1859 – 15 February 1879).[4][9] A fourth child was stillborn.[5] Their relationship lasted until the end of his life, Henrietta pre-deceasing him by three days, on 26 June 1873.[9]
Rebecca died in Madras in July 1892. Only a daughter and a son survived her. The son, McTavish-Dutt, parctised as a pleader in the Court of Small Causes in Madras.[4]
The tennis player Leander Paes is a direct descendant of his- Dutt is his great great grandfather on his mother's side.[20]
Death
Madhusudan died in Calcutta General Hospital on 29 June 1873.[9] Just three days prior to his death, Madhusudan recited a passage from Shakespeare's Macbeth to his dear friend Bysack, to express his deepest conviction of life:
…out, out, brief candle!
Life's but a walking shadow; a poor player,
That struts and frets his hour upon the stage,
And then is heard no more; it is a tale Told by an idiot,
full of sound and fury, Signifying nothing.
দাঁড়াও পথিক-বর, জন্ম যদি তব
বঙ্গে! তিষ্ঠ ক্ষণকাল! এ সমাধিস্থলে
(জননীর কোলে শিশু লভয়ে যেমতি
বিরাম) মহীর পদে মহা নিদ্রাবৃত
দত্তোকুলোদ্ভব কবি শ্রীমধুসূদন!
যশোরে সাগরদাঁড়ি কবতক্ষ-তীরে
জন্মভূমি, জন্মদাতা দত্ত মহামতি
রাজনারায়ণ নামে, জননী জাহ্নবী[21]
Legacy and honours
Dutt was largely ignored for 15 years after his death.[22] The belated tribute was a tomb erected at his gravesite.
His epitaph, a verse of his own, reads:
Stop a while, traveller!
Should Mother Bengal claim thee for her son.
As a child takes repose on his mother's elysian lap,
Even so here in the Long Home,
On the bosom of the earth,
Enjoys the sweet eternal sleep
Poet Madhusudan of the Duttas.[23]
Ishwar Chandra Vidyasagar said:
Meghnad Badh is a supreme poem.[24]
In the words of Sri Aurobindo:
All the stormiest passions of man's soul he [Madhusudan] expressed in gigantic language.[25]